OVID Submitting Companies can invite potential candidates to register as an OVID inspector candidate to begin the process of gaining their accreditation.
To begin the process click on "Inspectors" from the menu bar at the top of your OVID homepage and select "Inspector Registrations" from the menu: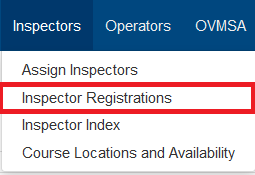 At the main inspector registrations page, you will see an "Invite Inspector" button:

Click on this and you are then taken to the Invite inspector form:
Complete the form with the inspectors name and e-mail address, you can also select a course you would like them to attend (although this is optional and not required if it has not been established which course the candidate will attend). You can also add any additional notes/messages that you would like the candidate to see in the invitation message. Once complete click on the "Send Invitation" button:

Once this has been completed your candidate will receive an automated e-mail with details of how to complete an online registration form to begin the process of gaining their accreditation and a link that will take them to the correct page to begin completing their online registration form.