An issue that sometimes occurs when creating vessel particulars, is when a document has been previously started but is the wrong type.
A typical example of this can occur with barge operators. When you open the vessel record to begin creating the particulars document you find that there is a HVPQ or an incorrect BPQ document type already in place.

When you find the vessel particulars are incorrect you will need to contact the support desk by clicking on the "Contact Support" link which can be found on most pages within SIRE or by sending an e-mail to siresupport@ocimf.org. Please state that you would like the current vessel particulars removed because they are incorrect. Please also be clear on which vessel is affected and ensure the name and any other identifiers such as REG/VIN or IMO numbers are provided. Once completed you will receive a response from the helpdesk to confirm the particulars have been removed.
You can then start again and choose the particulars document you require. Open the vessel record. You should then see a "Create" button under the "Vessel Details" heading: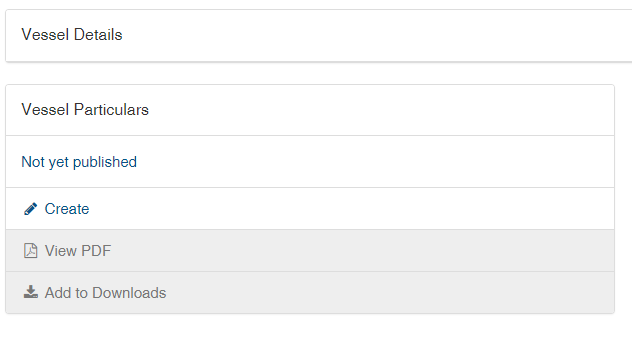 You will then be prompted to choose the document type you wish to create, choose the option required from the drop down list:

Once you have confirmed the document type required the particulars form is created and you should then be able to complete it and publish when ready.