When logging in to your SIRE operators account, you are directed to your homepage. Here you'll find a few useful shortcuts to take you to some of the more commonly needed areas of SIRE for operators.
When you arrive at your homepage you will see it has a layout of several pods: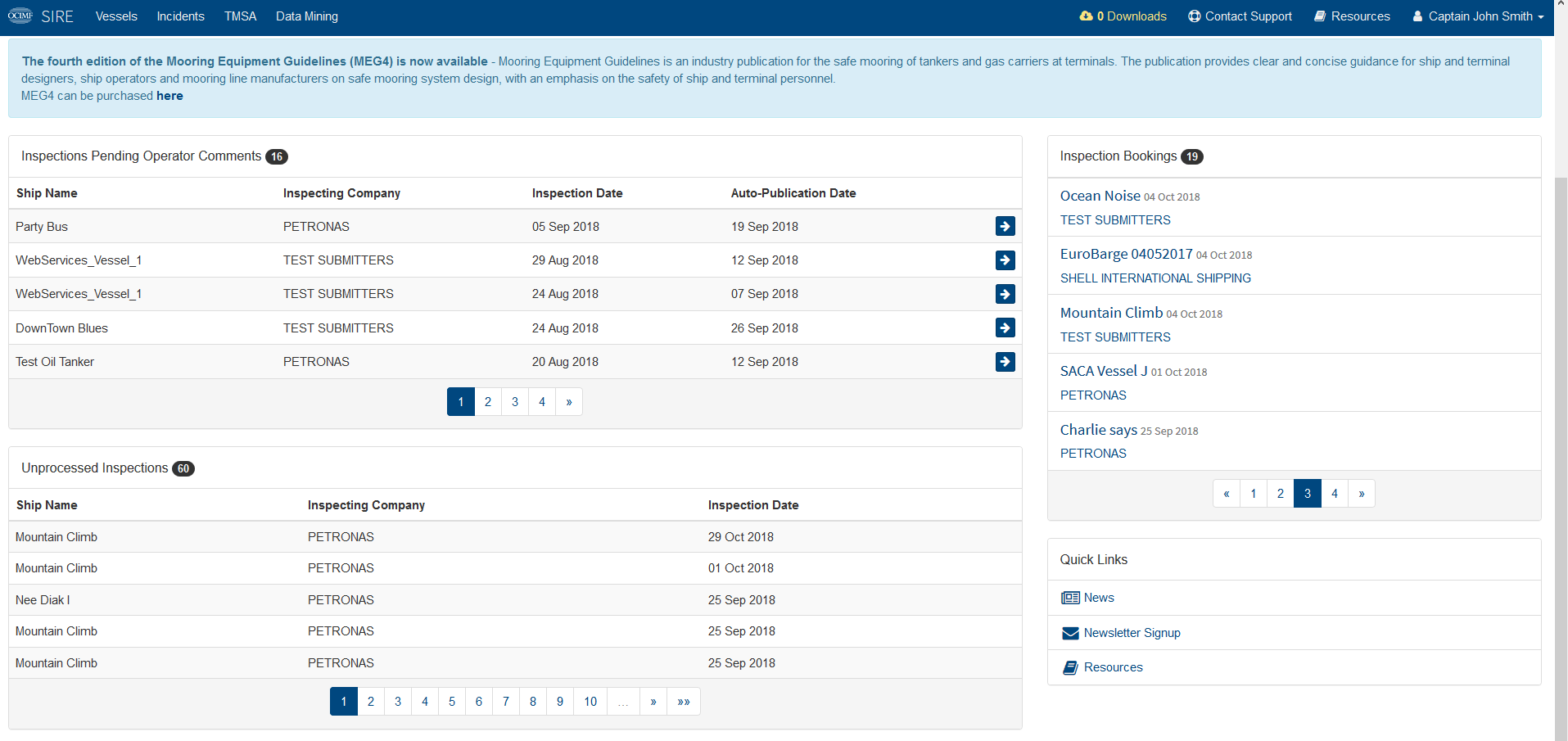 Occasionally, above these pods you will see notifications which are often in a yellow or blue box that provide notifications of any useful information you need to be aware of, or to provide warnings if you are required to review and sign any agreements or verify personal or organisation details:

These notifications can also allow you to click through to the relevant screen to make any required updates.
Below this the main pods are displayed:
Inspections Pending Operator Comments

Any inspections that have recently taken place on one of your vessels and have been checked and processed by the submitting company will be shown under this heading. This means that the report is now ready for you to check and add any operator comments before the report is finally published. The report will remain listed here until comments are added or the 14 day Auto Publication date is reached. To access a report to review observations and to add your comments, please click on the blue arrow immediately to the right of the report you wish to review.
Inspection Bookings

This section will list any recent inspection bookings made for your vessels. This summarises the vessel, inspection date and commissioner.
Unprocessed Inspections

This lists any inspections that have been submitted by an inspector to a submitting company that are awaiting checking and processing. If an inspection on a particular vessel has taken place and you are unsure if it has been submitted, check this area. If an inspection has been successfully submitted it will be listed here (unless it has already been processed and is awaiting comments) see above. If you are expecting to add comments to an inspection and it still listed under this heading and has not progressed to the "Inspections Pending Operator Comments" area within a reasonable time frame, contact the submitting company who commissioned the inspection to see if there is a reason for the delay. Once an inspection has finally been processed by the submitting company it is then removed from this list and is added to the "Inspections Pending Operator Comments".
Quick Links

Finally, the quick links section gives you access to a news page with useful news items. You can also sign up for a newsletter to keep you informed of any important updates. There is also an additional link to the Resources area containing software downloads, example templates and user guides.