When using the SIRE Editor software, you have the ability to download the latest particulars and crew matrix (where available) for a vessel you are booked to inspect.
To view the documents, ensure that you have accessed your editor software and created a new inspection. Please ensure the vessel details are entered properly when creating the inspection and make sure that the booking code supplied to you is entered where appropriate. The booking code in particular is an essential requirement, if this is missing the documents will not be downloaded.
Once completed open the new inspection as if you are going to edit/enter responses to the questions.
Next, click on the "Download or view supporting documents" button in the menu bar at the top of the editor software screen:

You should then see the option to download the available documents:

You will then be asked to enter your account password and click on a "Get documents" button. Once this step is completed, the documents will be downloaded and you should then see a dialog box to confirm that that the download has been successful.
You will then need to click on the download button again to see list of available documents: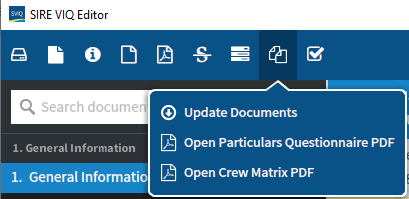 Click on the document you wish to view which should then open as a PDF file in a new window. The documents remain downloaded to your computer unless deleted and should then be available to view them as required.