A SIRE operator who wishes to use webservices to connect with external applications to download data from SIRE can make a request for an encrypted token from within their SIRE accounts. Please note only users who are registered as administrators can submit a request.
In order to make a request, login to SIRE and click on your username then click on"Organisation Profile" :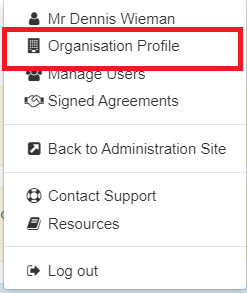 At the next screen click on the "API Access Request" button on the right hand side of the screen:
This will then take you to the request form, please fill in this form and submit it once completed. The request will then be reviewed by OCIMF. Once the request has been processed successfully, you will then receive an automated e-mail which will contain access details.