As a TMSA user you can set up automatic e-mail notifications that will advise you when Submitting Companies send a request for access to your organisations TMSA report. The notifications can be sent to up to five e-mail addresses.
To do this login to your SIRE account and click on the TMSA link at the top of the screen. At the TMSA homepage, click on the "TMSA Actions" button on the right hand side of the screen and choose "Email Configuration" from the menu: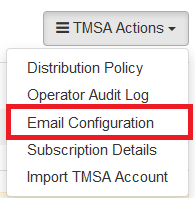 In the Email Configuration screen enter up to five e-mail addreses into the fields on screen and click on the "Save" button below:

This will enable the notifications to be sent automatically.