TMSA Subscription payments are required to be paid each year from January the 1st. Payments made on or after this date allow full access until the 31st of December of the same year. 
After January the 1st or if you are making your very first payment, when you access TMSA you will not be able to view or create documents immediately. You will instead see a screen like this:

In order to proceed you will need to click on the "Create Subscription" button. This will take you to the next screen: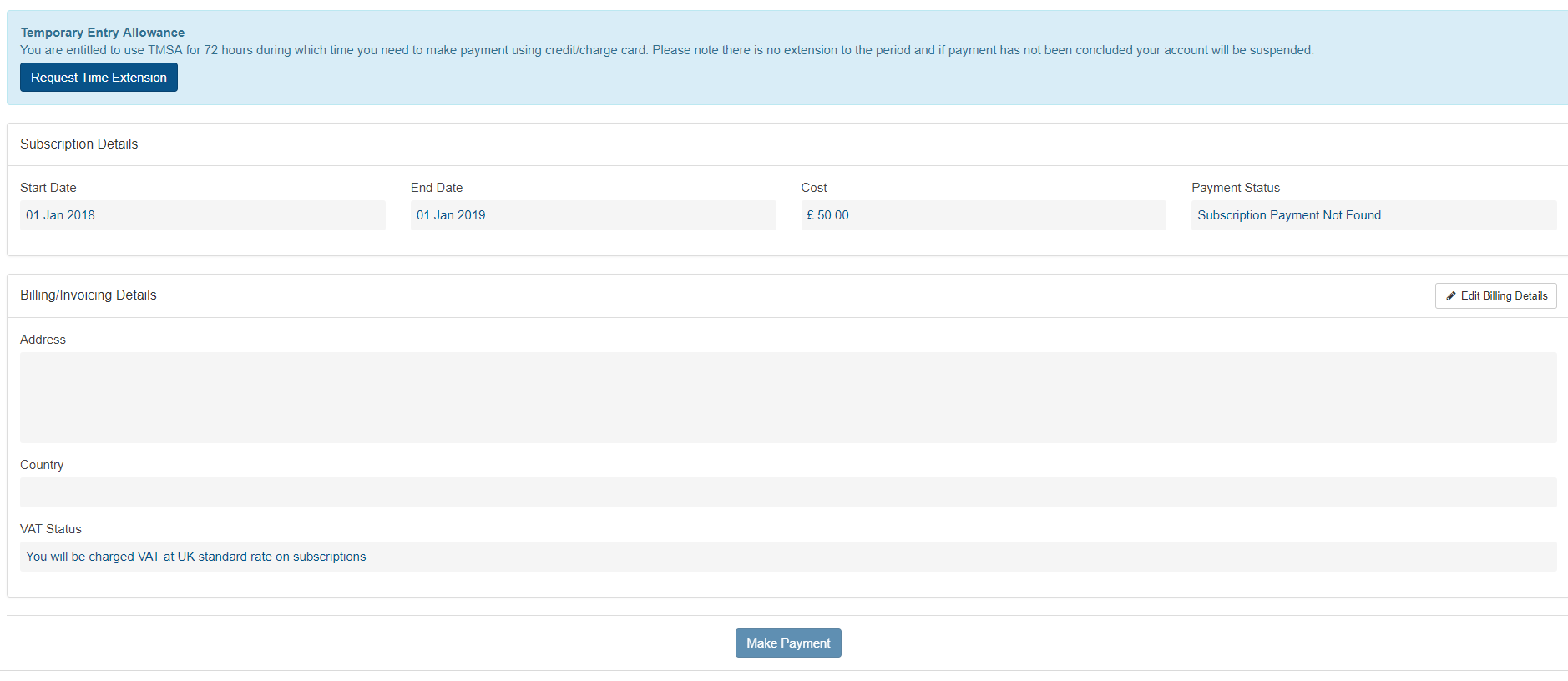 This presents you with two choices. You can make the required payment by clicking the "Make Payment" button at the bottom of the screen. This takes you to the payment portal where you can enter credit card details, once validated your payment will be accepted.
IMPORTANT FOR ORGANISATIONS OUTSIDE THE UK - Before making your payment please take time to look at the Billing/Invoice details section to check the VAT Status of your account. If you see "You will be charged VAT at UK standard rate on subscriptions" an additional VAT charge will be automatically added to your payment. To avoid making this payment please click on the "Edit billing details" button and then re-select your country from the drop down list, then click on the "Save Details" button. This will trigger a notification to the OCIMF Accounts team who will check and amend the status to remove the additional VAT payment. Once this has been completed the VAT status will change. This is not an instant process as it requires manual intervention from OCIMF accounts staff. Please DO NOT make the payment until the VAT status has been amended to show that the VAT payment is not applicable. It would be advisable after making this change to log out of TMSA/SIRE and come back to it later and checking the VAT status again before making your subscription payment.
If making an immediate payment is not possible, you can choose the option to "Request Time Extension" using the blue button at the top of the page. This will provide you will full access to TMSA for 72 hours if you need to update or create a new document urgently. Please note that this is strictly limited and no further extensions can be granted. When this extension expires you will need to make the full subscription payment to regain full access to TMSA.