When a published SIRE inspection is made available, it is normally distributed as a PDF file. It can also be downloaded as an xml file.
In order to do this, log in to your SIRE account and open the required vessel record. Once open you should then see a "Download" button to the right of the inspection report that you wish to save as an xml file, click on this button to save to the downloads area:

Once you click on save, you will then see a notification like this briefly appear on screen in the lower left hand corner of the screen:

Next click on the "Downloads" button in menu bar at the top of the screen:

At the Downloads screen you will see the requested documents that are listed and awaiting download:

To download as an XML file, ensure the XML field is checked. You can also download the inspection as a PDF from this screen if required. Finally click on the "Download Reports" button: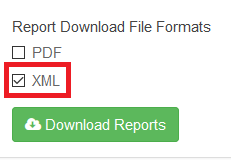 The inspections will the be downloaded as a zipfile which can then be extracted to obtain the required xml file.